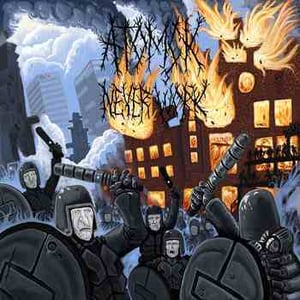 £

3.00 - On Sale
Previously only available for download or a cassette that was limited to 100 copies, this Grindcore masterpiece is now available on CD for the first time! feature 19 bonus tracks of the whole album being played live! 38 tracks total.
Download available here -
https://riproaringshitstormrecords.bandcamp.com/album/never-work
Review from Grind To Death Zine and used with permission of Alex-
One thing people can never call Atomck is boring, love them or loathe them their work occupies an exclusive tangent of music, a resonance of that wave length that imbues their work full of inventive albeit unorthodox gateways that perplex as much as they do grind.
Never Work their second studio full length, a follow up from quantum musical minefield "Yes to Alien Victory", is very much in the same vein of its quasi-experimental-progressive-grind surrealism predecessor, only with more traction, clarity and everything inherently Atomck. Starting with doom-riffic opener Desert Blast, Atomck set the stage for peace, only for the tail end of the track to open up to a series of disorientating cacophonies, a modus operandi set in motion with their trademark thrice layered majestic clamour. It is this triarchy of daze, hypnotise and grind that forms the core of their content with notable exception to the out of the blue mid-release noise mongering of No Sleep to Trutnov, colabarated between Linus and Winters in Osaka, and a secondary entanglement with noise with the boisterous rabble of Atoknong.
However dissecting their core armament, the most ambitious and shocking element in their aberrant exploitation is without a doubt the fantastical and sometimes inexplicable range and dynamic of vocal contortions. From ear-bone splintering highs of seemingly alien peaks, to backwater gruffs and bellows, the vocal experience is unforgettable and boasts a fluidity that allows it to jump from pitch based zeniths to nadirs without transition.
Guitars ever faithful to their dualistic progressive and grind via absurdism roots posses a logarithmic flare, but one born of an mathematical anomaly rather than any conformative technical skill set. The guitar tone employed has a distinct needle-pointed sharpness and agility to it, but without hesitation jumps into something beefier for those more entropic moments. Drums are likely the only anchor to normality the band possess, normality being a relative and distorted point of contact by now, although not fixated on rampant blasts, the drums give a flexible referential drive to the release, their output directly analogous to the guitars.
Its bohemian grind at its most tempered, radical yet not excessive, boldly presenting something engaging in a curios rarity. Atomck have refined their modular brain storm grind, to a point of great finesse, truly worthy of your attentions.
Atomçk - NEVER WORK CD Review from Power Play magazine....
Originally released as a limited edition, one hundredcopy cassette, this album now enters the realm of positively mainstream, with a run of 500 copies on CD. Those that poses the tape-and clearly there aren't that many-will probably want to track this down, as you get the original recording plus the bonus of a complete gig at The Undertone, Cardiff in 2011.
If you're unfamiliar with grind (why?), the sheer volume of tracks, and collective running time, shouldn't put you off. 38 in asmidge under forty minutes tells you all you need to know. Generally, it's fast, brutal and much akin to England's current disintegration of the Aussies in their quest to retain that famous urn,as far as sadistic intent is concerned. Spot the cricket fan, uh? The production's adequate, but not much more, but for a 500 run, really, what do you expect? Cue nostalgic chat about tape trading days, ohh when I was a lad etc...
Accompanied by a press pack that has its tongue pressed very firmly in cheek: "starting as a drum machine/Agorophobic Nosebleed grind band they got a "real" drummer so they could play live and disappointpeople more often..." makes a refreshing change from the norm, too. Having witnessed them unleashing their fury supporting Wormrot, I can certainly vouch for their level of intensity and indeed self-deprecation. If you feel like being hit by a sledgehammer somewhere around your cranium, then this is about as close as you'll want to get. Time to grin and accept the punishment...
(POWERPOINTS 7)
Atomçk - NEVER WORK CD Review from Metal Hammer Magazine.
The press release accompanying Never Work says that Atomck have been 'perennially under-appreciated since 2006'. That much could be said about many UK grind bands, but in recent years the scene has begun to poke its grotty head out of the gutter. Of that scene, Atomck are worthy representatives, incorporating influences that span grind's history, yet daring to be different. Song titles like Disco-Dance Axis give a strong clue of where their heart lies. Desert Blast's doom-laden groove is an unexpected opening, as chaos soon decends in a violent succesion of short song bursts, vocalist Linus ranging from the screams of a 50s b-movie starlet to the roars of the beast chasing her. No Sleep Til Trutnov's electronic noise terrors are prehaps the zenith of a record set to kill, with enough frenetic savagery to please the encrusted faithful, while songs like Big Shit and and Monster Of Justice are, dare it be said, catchy, their grooves and infectiously shrill leads thus providing safe havens amidst the maelstrom and anchor points for newcomers trying to make sense of it all. 7/10